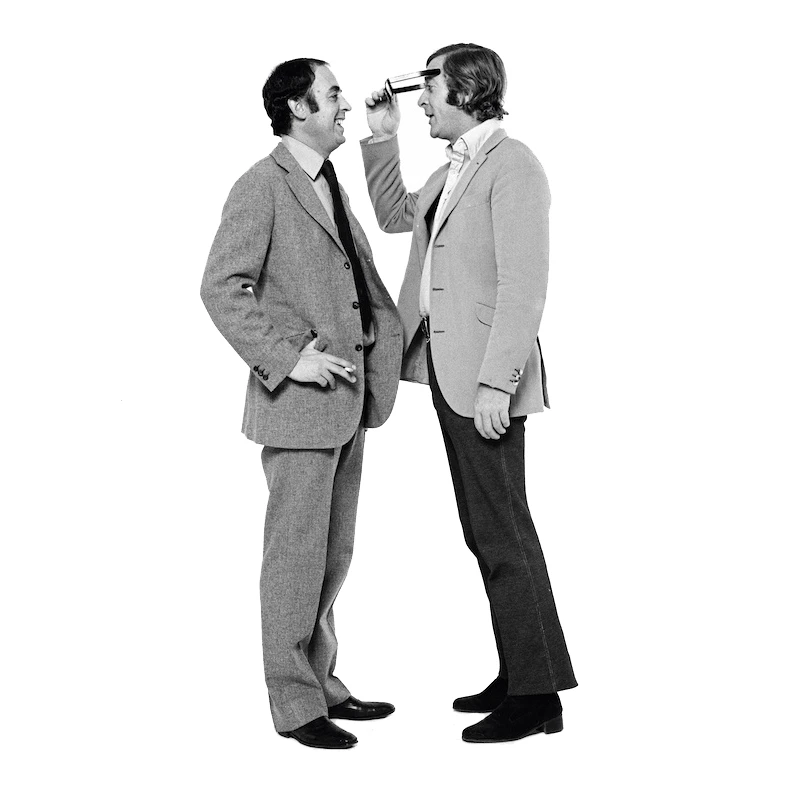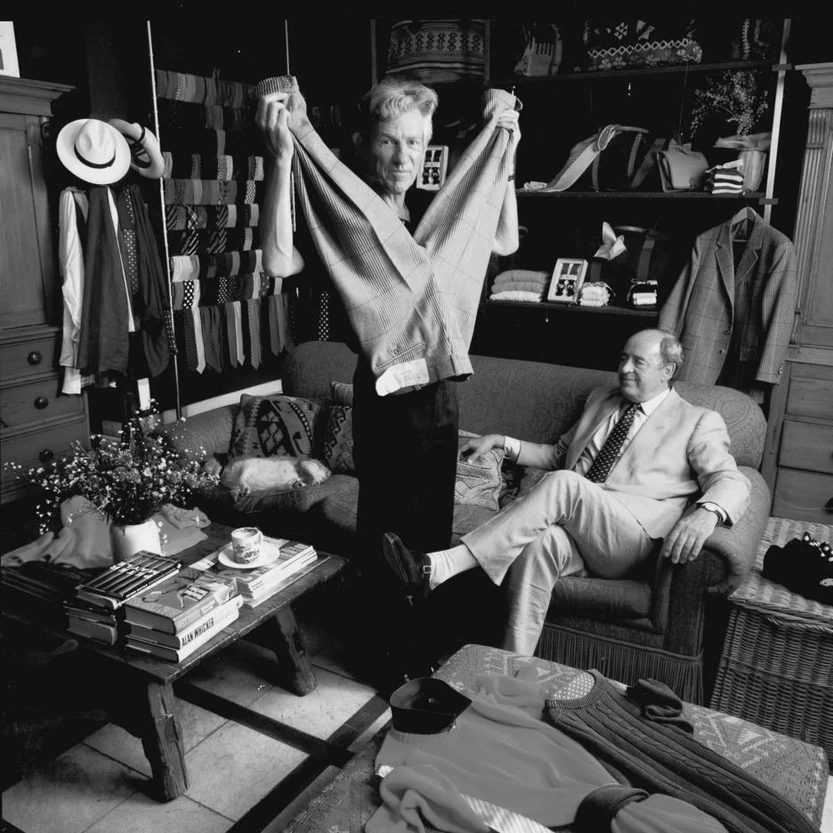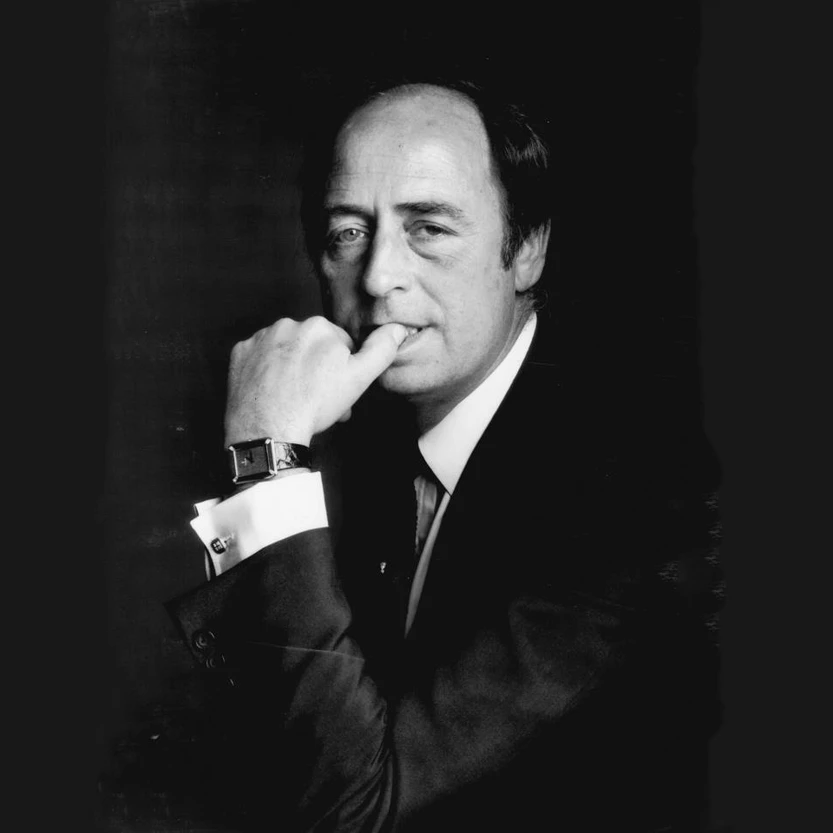 The Rodin of Tweed
Douglas Hayward was a sartorial wizard and as synonymous with his era as any of his illustrious client list. He dressed a constellation of stars both privately and on screen in some of the most iconic outfits in Hollywood history, was the inspiration for Alfie and The Tailor of Panama, rubbed shoulders with royalty and literally created the stylish look which defined the Swinging Sixties. Someone once quipped his waiting list was so long that some of his celebrity clients went out of fashion before their second fitting. As another remarked 'Doug was a legend and will never be forgotten.'

Deliberately staying away from what he considered the stuffy formality of Savile Row he moved into a studio on Mount Street found for him by Terence Stamp, introduced a more romantic Italian style to the classic British tailored look and with it created the iconic 60's and 70's silhouettes you see in The Italian Job, The Thomas Crown Affair, Get Carter, Roger Moore's James Bond and many more.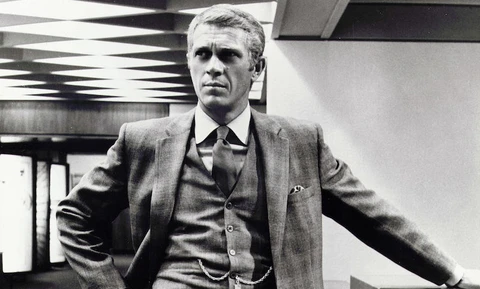 THE BUDDHA OF MOUNT ST
His studio was more of a salon than a gentlemen's outfitters as the most famous actors, models and musicians of their generation could be seen being fitted for a suit or just hanging out waiting for something to happen or someone to go to lunch with.
Terence Stamp was often there with his girlfriend at the time Jean Shrimpton; Sharon Tate, with her husband Roman Polanski. Then there was Faye Dunaway with the photographer and great friend of Dougie's Terry O'Neill, Mia Farrow, Joan Collins, Tania Mallett and Jane Birkin with their respective boyfriends and husbands.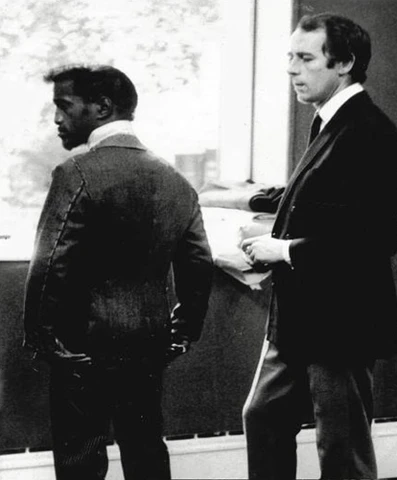 Alec Guinness, Michael Parkinson, Bobby Moore, Jackie Stewart, James Coburn (who described him as "the Rodin of tweed"), Rex Harrison, Peter Sellers and John Gielgud all became his clients, then his friends – which was just as well because he refused to make suits for anyone he didn't like.
His easy charm led to another chum Patrick Lichfield, 5th Earl of Litchfield to take him to Mustique to entertain Princess Margaret.
"Nobody ever knew what to do with Margaret," Lichfield admitted. "but Doug was wonderful with her. He knew the words of every song Cole Porter ever wrote. He was the only one who could sing duets with her and never miss a beat."
Doug later confessed his secret was to treat her like "a regular bird", adding: "You can't run with those people and worry how it's going to play out".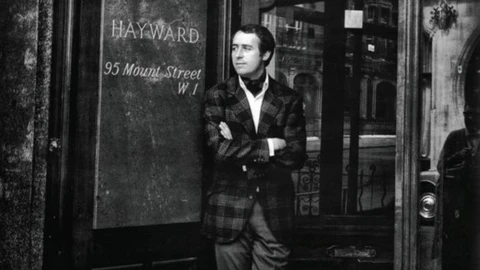 An Inspiration for Ralph Lauren
Another influential friendship Dougie struck up was with Ralph Lauren who he met in the early 80's on one of Ralph's first visits to London. Ralph realized Hayward's approach to his clients and their corresponding support of his style and tailoring was very similar to his own and exactly what he envisioned for his eventual entry into the London market. Dougie in turn recognized Ralph's amazing ideas and talent and became a great friend and supporter. Lauren in turn credited him as the inspiration for his Purple label.
A Working Class Hero
Like many of the other iconic UK stars to emerge out of London in the 60s and 70s Hayward's distinctive sense of style was in many ways shaped by his working-class childhood, when men like his father stood straighter and walked taller when they went out on Friday night in their best outfits. And while Hayward's studio in Mount Street would eventually clothe the great and the good he never forgot his roots.
"He knew what it was like to be dirt poor', remarked Audie Charles who worked with him for 30 years and eventually ended up as the director of Anderson & Sheppard's Haberdashery. "For all those guys – Michael, Terry and Doug himself – no matter how famous they got, there was always the feeling that someone was going to tap them on the shoulder and say 'OK, you shouldn't be doing this, get back to where you belong.' They all felt like they'd found the lucky ticket and in many ways Doug was the center of it all. He epitomised that sixties explosion."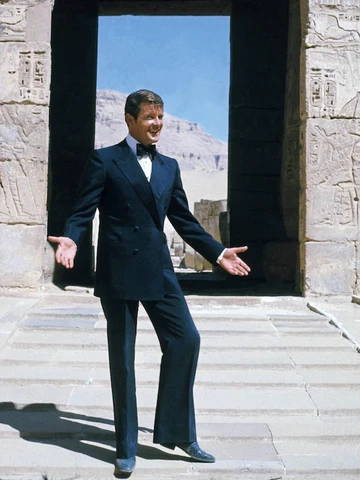 For a unique insight into Michael Caine and Roger Moore's relationship with Douglas Hayward and the perfect suit check out the short film they made which is posted on our Portfolio page.